This shop has been compensated by Collective Bias, Inc. and its advertiser. All opinions are mine alone. #PeriodConfidence #TryTheDivaCup #CollectiveBias
After having children, my periods were never the same. The general consensus from my close friends is that our periods are heavier and come with a vast array of new symptoms (chin hair, anyone?). Every month, I dreaded getting my period because it felt like a ball and chain, limiting my usual daily activities, and making me feel like I couldn't participate in certain events. I've since discovered a few period hacks for moms that have helped me feel free and allowed me to go about my everyday life without concern.
Essential Oils
I frequently use essential oil blends to help relieve some of my premenstrual symptoms. A citrus blend is great for lifting my mood, peppermint blends help with energy, and lavender helps to soothe and calm.
Diva Cup
Shop The DivaCup for yourself via my image below where you can hover and click to pick up your own from CVS! Or find a store near you using the store locator.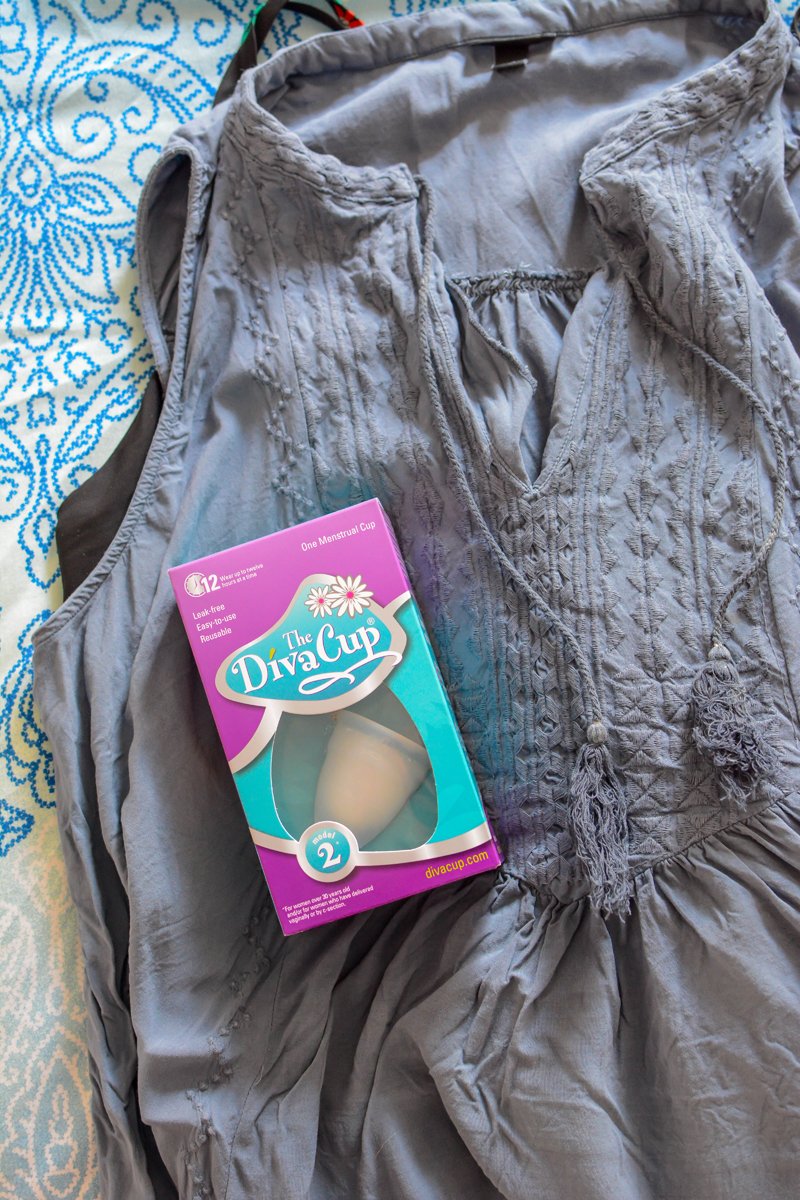 The DivaCup is a reusable, bell-shaped silicone menstrual cup that works by collecting my flow instead of absorbing it. I get twelve hours of leak free protection with the clean, comfortable, and convenient cup. It comes in two sizes: Model 1, which is recommended for women under the age of thirty who have not yet delivered vaginally or by caesarean section; and Model 2, which is recommended for women over the age of thirty and/or women who have delivered vaginally or by caesarean section. Both models are available at CVS and I easily found mine in the feminine care section along with the other usual supplies. The DivaCup is made up completely of healthcare grade silicone and is free of chemicals, plastic, BPA, latex, and dyes to assure comfort and durability. It travels well and is free from leaks, offering protection all day no matter my level of activity. As a mom who has a new situation down below, I love that my DivaCup allows me freedom while I'm on my period and I don't feel tethered to tampons or pads. I insert it in the morning and wear it all day, removing, emptying, and washing it under warm water before reinserting it for bed. (Note: refer to the user guide before using the cup and consult a healthcare provider if you have questions about your vaginal or gynecological health.) Their Consumer Care Team is available to answer questions and concerns. They can be reached at support@divacup.com, 1-866-44-3482, or via their social media networks. This team is really the best team to contact and are super helpful to customers. They are on the phone with women, for insertion, removal etc.
Heating Pad
Cramps are the actual worst thing ever about menstruation. Since having children, my cramps have gotten worse and I dread knowing I'll have to suffer through them. One way I've found relief is by using a heating pad over my abdomen. The heat helps my uterus to relax and the contracting becomes less painful.
While none of these provide a period cure they've certainly helped me feel less a slave to my period and have helped me to gain my sense of self back during my time of the month. I'm able to live my life like I would any other day and not feel self conscious or stressed about having enough supplies to last me through the week or risking a situation where I don't have access to a tampon or pad.
Let's talk period hacks in the comments below. What's one of your tried and true ways for period relief? Visit The DivaCup social hub for more period hacks from bloggers like me.